I wear clip-in extensions every day. Well I did, until I recently got permanent Hot Heads tape in hair extensions from Salon Sorella & Day Spa.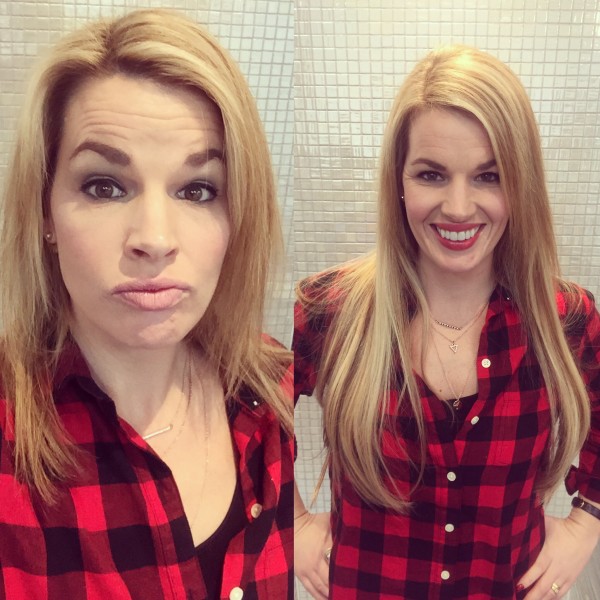 About 10 years ago I had bonded extensions applied (they used a glue and were round bonds). The technology wasn't perfected, meaning my hair was damaged.
After I had my kids and breastfed, I lost a lot of thickness in my hair. Hair extensions make me feel "put together". My stylist recommended the Hot Heads, because I did wear clip-ins every day, also because they are considered one of the best on the market in maintaining hair integrity and preventing damage.
I said OK, let's try em'!
I was the model for Hot Heads hair extensions training at my salon; Salon Sorella & Day Spa. Here's the VLOG of the process (watch time under 3 minutes).
As you may have noticed, I ABSOLUTELY LOVE THEM!
Here's my suggestions of a few things to consider if you are serious about these hair extensions: 
If you get the length like I did which is 18 inches, and you are not used to long hair it can be an adjustment. I personally love it and it hasn't been a big transition for me, because I was already used to the clip-ins.
When I first washed it (you have to wait 24-48 hours before you can, so don't have any plans to get sweaty and gross!) I was like "WHOAAA this is so much hair!"  Make sure you budget for more shampoo and conditioner if you go long, and a good quality one that works well with the extensions. 
They are way lighter in my head compared to clip-ins. I honestly cannot feel them. 
You can not see the tabs when my hair is down or up! (I couldn't wear my hair up as easily with the clip-ins, they were much harder to hide). 
You can swim with them, in fact you can do everything you would with your regular hair! 
One of my subscribers, wanted to know how to correct them if something went wrong. Honestly, if they are applied right, you shouldn't have any issues, but if you did, you would just go back to the salon to correct them, it's not a big deal. 
At night I do wear my hair in a loose braid to avoid friction.
I haven't found any more maintenance than with my regular hair (except I don't go to bed with wet hair, which I don't think you are supposed to do anyway) and I do spend about an extra five minutes in the shower washing them. 
There are a ton of options when it comes to hair extensions. Some people want just a few applied for thinning hair or hormonal patches. Some want long barbie hair like mine, some want thickness in a certain area. You can get any length or colour. You can also dye them to match your hair. They are high quality real hair. Most of the hair is Asian or East Indian, it is also fair market. Fair market means, the women have been compensated for selling their hair.  
The investment ranges depending on the look you want to achieve. The set I have is valued at $1200, however that price could easily be less ($600) if we had used less colours and less tabs (I have four colours in my head!) 
Each sandwich or tab of extensions retails for about $50. You really need a consult to figure out the cost for you. Cost depends on your hair type, it also depends on how many colours you want and the length. There are mermaid extensions which are even longer than mine, at 22 inches! 
I had my first really hard workout with them and sweat a ton.  The extensions washed up great.  Make sure if you have dark extensions that you wash the adhesive area well. If you sweat a lot you can get salt deposits from sweat near the adhesive (which would show up a lot more on dark versus blonde hair), so give em a good scrub. 
Here is the live video we recorded at Salon Sorella & Day Spa right after my hot heads were applied.
Training Day at Sorella: Hotheads Hair Extensions!
With special guest Michelle Ferreri.

Posted by Salon Sorella and Day Spa on Monday, December 12, 2016
I really really love them.
Thanks again Salon Sorella & Day Spa, I LOVE being your beauty blogger! To book a consult call them today at 705.652.0100
This is a sponsored post. As always all opinions expressed are mine.