This is Jeremy's entry for week 34 on his 52 week journey to lose 100lbs.
Sometimes the best thing we can do is hit the refresh button.
Last week I did just that. I wrote some goals for the next 30 days. Goals help me keep focused and engaged, goals are the key to my success.
This week I started to do assisted push-ups on the floor and it felt great!!!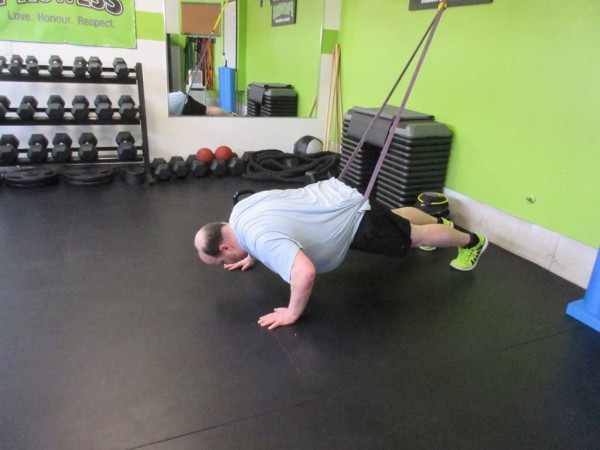 To go from 16 risers to now on the floor is progress, and progress is motivating! Everyone wants quick and easy results but this is the exact reason if you work hard stay the course and keep pushing yourself the results will come. This week my trainer David Kittner of Prowess Strength & Conditioning wrote a powerful statement about my progress:
Fall in love with the process, and the results will take care of themselves

David Kittner, Jer's trainer, Prowess Strength & Conditioning
In the next 30 days I bet I can remove the assisted part and be well on my way to full push ups on my own!
I can feel the physical changes in my body. I see them in my neck, collarbone and shoulder region. My energy level is still high and basic tasks that would have been a big strain before are now easier. The flexibility I have now compared to last fall is night and day.
Challenges are always there. It's a long weekend and many of us have services, dinners and lunches this weekend with friends and family, myself included.
BUT I HAVE SET A GOAL TO MANAGE THE TEMPTATION OF DELICIOUS EASTER TREATS!
Going into this weekend I've prepared myself to fight the food addiction by making smarter choices before, during and after.
I won't be starving when I show up to Easter Dinner and the table is stacked with chocolates and sweet treats.
I will put less on my plate (sometimes picking a smaller plate helps, because it looks like you have a loaded plate).
I will wait at least 20 minutes before I decide if I want seconds. This gives my stomach and my eyes time to catch up to each other!

The "Weather God" (I think his name is Mike Judson) was not on my side this morning. I was up and ready at 5am to head to my workout but the road conditions had said no way. This doesn't mean I should skip my work out, and it shouldn't be an excuse to not get active.
I can easily find things around my home that I can do to help get my heart rate up and stay active. I challenge myself and you to do three sets of eight push ups after Easter dinner, in fact after or before (if you are a puker) every dinner!
This snow and ice will melt and the sun will be out soon which means others will be inspired to have their "one moment" just like I did in August when an eight year old girl called me fat.
Just remember, changing your life with fitness and nutrition isn't a seasonal event. It's not for six weeks or 18 weeks, it's a lifestyle change. It is fun and challenging all at the same time.
Happy Easter everyone!

Jer