When I turned 18 I wanted a trampoline for my birthday. My parents thought I was kidding, I wasn't.  I begged and begged and I think I had to fork over some of the $300 it cost to buy it.  Recreational trampolines were new on the scene, and they have come a LONG way since then.
My first trampoline did not have a net.  I can remember bouncing right off and landing in the gravel. It was painful and dangerous fun.
I loved the workout and fun of a trampoline, but I was not a fan of the lack of safety they offered at that time.
When my second child was born 10 years ago, I was on maternity leave for the summer. I wanted something that would get me active again, but I also wanted something fun for the kids.  I saw this "revolutionary" trampoline advertised at Costco (it's no longer sold there, it's now sold online at at Canadian Tire and Toys R Us) called the Springfree Trampoline.
I spent hours researching the product online and was really intrigued with the spring free technology and I LOVED the net.
It was a lot more money than the other trampolines on the market.  Regular trampolines were selling for around $400 and the Springfree was retailing for about $900. My husband was not sold on investing in one, but I can be very persuasive. I looked for weeks and was convinced this product was worth the investment.
It was delivered to our house and within a few hours we were enjoying our new family toy.
I was NOT disapponited and neither was my husband.  He said many times to me over the years, this really was worth the money.
We played on our trampoline ALL the time.  It was a playpen for the baby.  I would put blankets, books and stuffed animals on it and they would play for hours.  My daughter was three when we got it, so she could jump while the baby was content to watch and not get catapulted because she was so small (with me on supervising of course!).
We welcomed a new baby who grew with the Springfree as well. Snack-time, cloud watching, star gazing, the game "popcorn", family time, watching fireworks, fort building, honestly I can say the Springfree trampoline is the best family toy we have ever invested in (and a pool when we had one at our other house).
It is also an amazing workout! I crank the tunes and get jumping, it's an awesome calorie burner.
But finally this year, on it's tenth anniversary, our Springfree finally gave out and the mat collapsed and it was no longer safe.  Our kids are now 13, 10 and 7 and I knew I wanted another one.  The technology is even better today.  Springfree can now be left out all winter which is AMAZING!
The have new accessories, new shapes and  new sizes now available.
I was thrilled when Springfree agreed to partner with me as a blogger and influencer.  I approached them and told them how much I love their product and they love that our family was such an early adapter of the technology.
Watch the vlog that shows our old trampoline and our new 13×13 jumbo square Springfree trampoline (currently the largest one on the market). We also feature another new amazing feature, you can get it installed and set up!
Our Springfree was delivered to our house via purolator and two men,  who were outsourced by Springfree came and set it up!  It took them about 2 hours before my kids were bouncing sky high!
Our summer just got a whole lot better;) Thanks again to Springfree for working with us!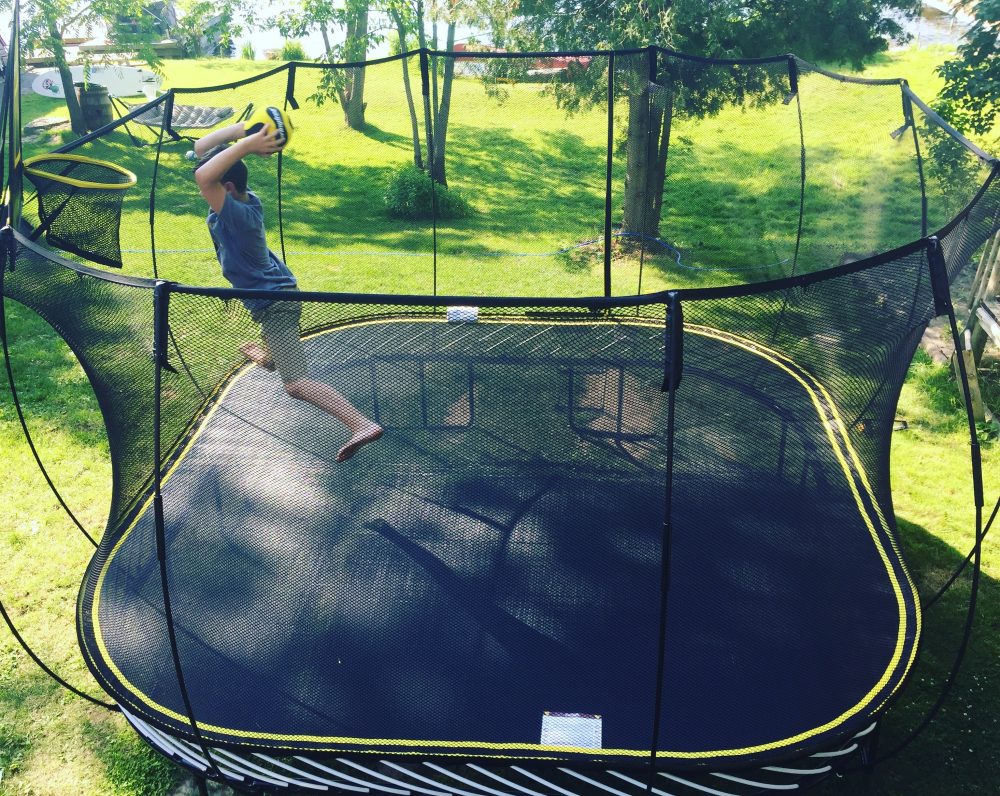 If you have any questions about the warranty or the different styles of trampoline you can visit them online HERE. 
To watch how the creator (and Dad) came up with the design of the Springfree trampoline watch this!

*This post is sponsored by Springfree Trampoline but all opinions are mine.