Yes, I love shopping at Giant Tiger. A lot of my footwear, underwear, clothes, bedding, and groceries come from Giant Tiger… and now so does my furniture!
I got these barstools for $39.99 each!
This deer blanket is amazing, except I need to order more of them because everyone fights over it. It's sooo fuzzy and cozy!
I got a whack of towels, some plastic food containers, pillows, mattress toppers, and comforters.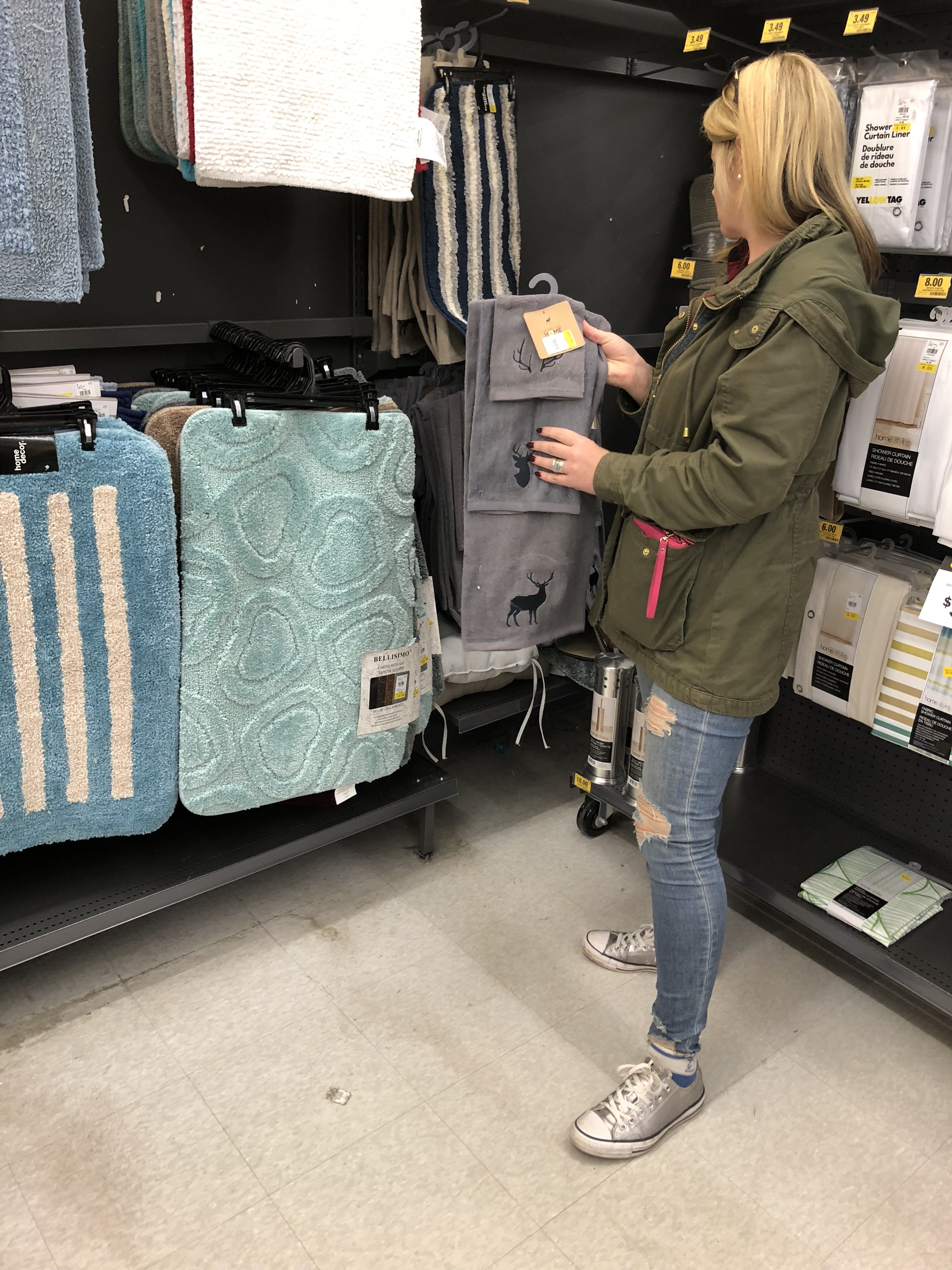 AND then I got to go shopping online! I got a bed frame and a queen mattress. I had no idea how smart a mattress in a box is!
Watch this:
I also got my son (who has huge feet) a new pair of fashionable winter boots.
And how cute are these door mats?
Giant Tiger really is transforming into a one stop store.
From groceries, clothing, jewelry, undergarments and now housewares, this Canadian company is growing more and more everyday.
They pride themselves on providing ultimate value and I love working with them!
The history of the store is a great story (taken from the Giant Tiger website):
On Saturday, May 3, 1961, Gordon Reid, Founder and Chairman, opened his first Giant Tiger store in Ottawa, the Nation's Capital. The business was launched with a $15,000 investment and first year sales were $139,781. The business was started with a very simple idea – keep the cost of operation low and sell a large volume of merchandise at everyday low prices.

In 1968, another simple idea was incorporated into the Giant Tiger formula – franchising. Today most Giant Tiger stores are franchised so that the company's valued customer will be better served because the owner is in the store. Giant Tiger franchise owners become members of the community, sharing community concerns and serving community needs.

Tiger Trucking began operation in 1987, with the introduction of Giant Tiger trucks delivering merchandise from a growing warehouse system to stores. On September 1, 1990, Giant Tiger established a clothing and footwear buying office in Montreal. The objective was to be closer to the suppliers and manufacturers in order to be in a position to pick up trends quickly and move merchandise to the stores faster. Our home office officially moved to 2480 Walkley road in Ottawa in 1996.

Presently, Giant Tiger continues to offer a large assortment of apparel for the entire family. Private in house brands include Lily Morgan, mySTYLE, ACX active, Monkey Bars, Bella & Birdie, Survival Gear, Rivet 61, Mountain Ridge, and Giant Value.  In addition, everyday needs in name brand grocery, confectionery, pet food, cleaning supplies, housewares, stationery, toys and health and beauty products are also carried.
Recently, I had a chance to check out their newest clothing line created by Canadian designer Simon Chang.
Here is the video of the official launch:
So do you want to go shopping at Giant Tiger??
We have a $50 gift certificate for a lucky winner! To enter, visit the Giant Tiger website at gianttiger.com, and tell me what you'd buy (furniture especially) if you won! 
We would love to hear from you. Share your comments, feel free to share this post on social media — tag Giant Tiger and Michelle Ferreri so your friends can enter.
Ends November 9, 2018.
Good luck!