What could possibly go wrong?
When we planned this shoot, it wasn't supposed to be a blizzard. But, much like unfortunate events, some things just can't be predicted. Which brings us to our conversation about insurance with my sister, Janet Leahy-Lemaire.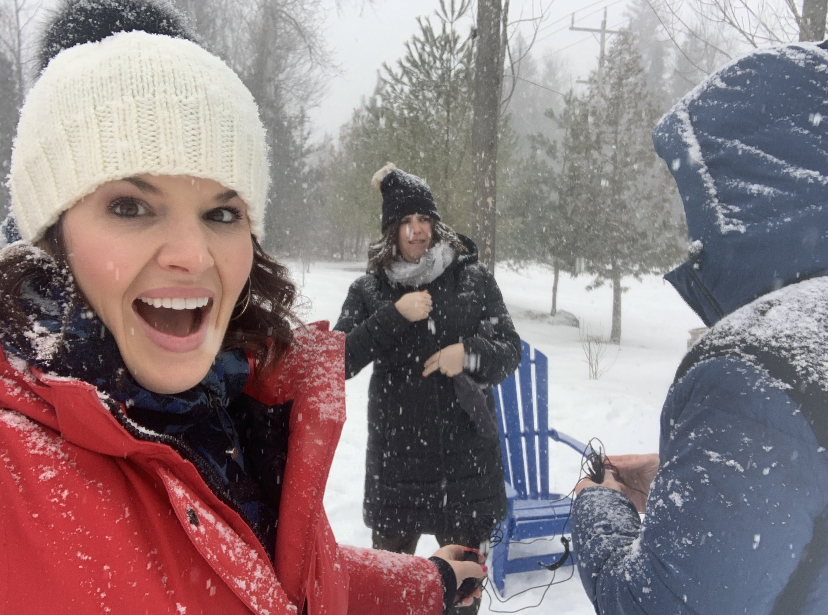 Janet is a Senior Business Development Agent with AllState Insurance. The purpose of this conversation is to bring you humour and hopefully save you some money.
Throughout our lockdowns in Ontario, a lot of businesses shut down. So where you had an hour long commute to work, your office is now in your living room. Or, maybe you started working for a delivery company for some extra income. Both of these scenarios are worth a call to your insurance provider.
Mileage is one of the biggest factors in your automobile insurance. If you're home and not driving around, why not see if you can save some money?
With so many of you adding furry friends to your families, pet insurance is definitely something to consider. After all, you can't predict when something could happen to your fur baby. Back in the summer when my dog Dolly broke her leg, I wished I had added it to my policy. What cost me a small fortune would have been covered if Dolly was insured.
It's also reassuring to know that if the need to travel came up, travel insurance is still available. Some of which include COVID-19 coverage.
While many of you likely have an insurance agent or brokerage that you deal with, there's no harm in doing your homework.
AllState offers a friendly and personal experience, setting them apart from the rest. If you want to know what AllState Insurance can offer you, give Janet a call at 705-761-8853 OR 705-910-0467. You can also reach her by emailing [email protected]
This post is sponsored by Senior Business Development Agent Janet Leahy Lemaire and AllState Canada, but all opinions expressed are my own.
For another fun segment with Janet, click HERE!