If you've been to a cottage or lake lately, chances are you've probably seen one of these foam like mats floating on the water. 
There are different types and different price points. The one we have, we got from Cottage Toys and it's called a Runway Floater Mat White Knuckle. It's 16×18 and holds 1500lbs distributed weight.
The polyethylene material doesn't sink and it doesn't absorb water. It's really durable and fairly maintenance-free.  
We roll it up and take it in the boat to the sandbar (you would probably need a truck if you were transporting it in a vehicle). It does take two people to roll it up though. It can be tricky.
Watch the video above of us using it at the sandbar in Lakefield, Ontario!
When we got ours in 2016 the price ranged from $499- $569, depending on the size.  I think it's a great investment because it's multipurpose. You can lounge on it, use it as a floating dock and the kids play on it for hours! It's also a pretty intense workout. It's tough to balance on. It's so simple yet so versatile. 
I wouldn't recommend using it in or near shallow water it's too dangerous if you fall off (which you will). You want it in open, deep water with no obstructions near by.
They are also available for rent. We rented one last year and the rental fee goes toward the purchase price. Head to cottagetoys.ca to learn more.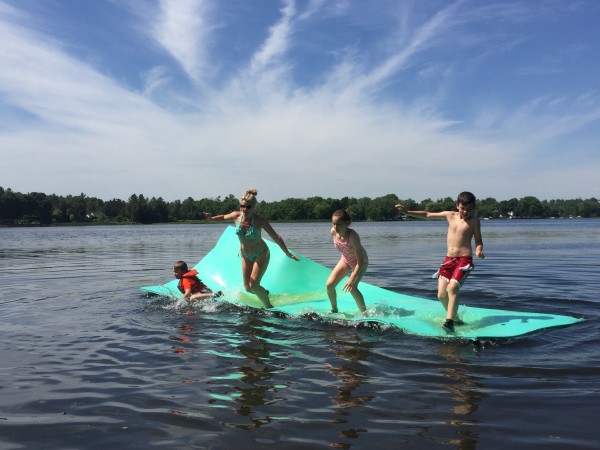 Thanks to Cottage Toys for sponsoring this post. As always, all opinions are mine.
MF